ArduPlane , ArduCopter (and similar Ardupilot projects) use Mavlink for telemetry, while Graupner have a very useful telemetry system; HoTT.
This device offers all the data Graupner's EAM(Electric Air Module),GAM(General Air Module),GPS,Vario modules offer. Some of the data, which Ardupilot does not have, like distance and direction to home, 1s,3s,10s vario-data and battery cell voltage/min/max voltage are calculated in the device.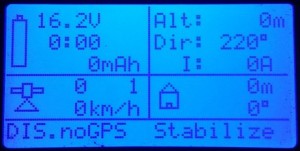 Note the "DIS.noGPS …" = Disarmed, NoGPS Fix, mode is Stabilize.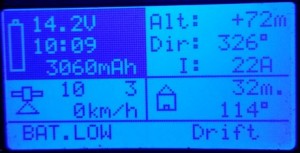 This is the flashing background + audible warning "Battery Low".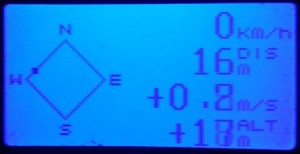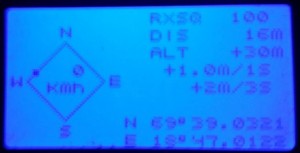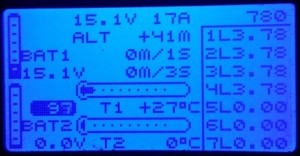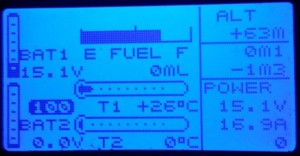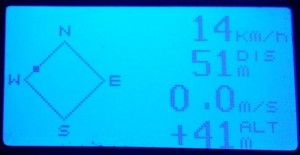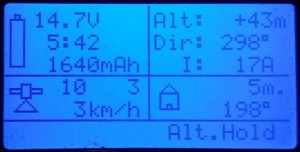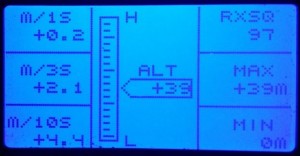 Arduplane/Arducopter modes are visible as text.  Future/unknown modes as number.
Low and critical battery alarms are configured as follows;
3s  Warning 10.8v , Critical  10.2v
4s  Warning 14.2v , Critical  13.6v
5s  Warning 18.0v , Critical  17.0v
6s  Warning 21.5v , Critical  20.4v
Detected cell count can be seen as number of displayed cell-voltages (which is calculated from initial battery voltage)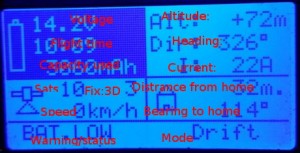 most useful information at a glance, by using just heading, and flying so it gets equal to gearing to home – you can fly home even whithout seeing the model.
LED control.
For ArduCopter, there are also LED outputs for 4 leds/strips (unamplified, so you will need a transistor if you wish to use them with more than a few LED's) The outputs are on pin 7,8,9,10.   – they will flash diagonally in case of critical events, and different patterns depending on mode/situation , GPSfix and so on.
LED Switch: if pin2 gets a PWM of <1200µs , the LEDS goes dark except if critical condition.
Connecting:
Voltage: GND and +5v goes to Pixhawk/APM or Receiver.
Connect RX pin to your 57600 baud telemetry TX pin on Pixhawk/APM

Connect Pad

5 to your HoTT reciever's telemetry input.
If you wish to power it from Pixhawk, It's ok. This would be the connections then:
Telemetry connector(of your choice),  Pin1 (red wire) – goes to VCC on the device
Telemetry connector Pin2 goes to device's RX pin
Telemetry connector Pin6 (last one) foes to device's GND
Pad5 on the device, is connected to you HoTT RX's "T" input.
 Troubleshooting:
If you only see modes, no other onfo – beside what's selected on Graupner, check the parameters below, used to tell Ardupilot how often to send the different messages: (usually none is zero by default)
SRx_EXT_STAT =2    =2hz battery voltage, current and capacity GPS,fix .RAW GPS position, velocity, altitude
SRx_RAW_SENS = 2  gives 2hz pressure, and temperature.
SRx_POSITION =2  position mixed with acelerometer & barometer data
SRx_EXTRA2=2  heading, baro altitude, climb/descent rate
Buy Mavlink>HoTT interface ($70)Type :