Snapon Jack pad.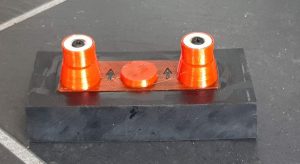 There are many photos showing of damage around lifting points due to misaligned, or missing jack pads.
Tire shops are very sloppy about it. And to make your average garage jack lift it correctly, requires fine placement.
The Solution:
My jackpad, is made using 3cm high quality , industrial rubber sheet from Dunlop.
Then I  add an Thermoplastic polyurethane part, that makes sure it can only fit one way,(the correct way) to the jack pad.
Finally, some strong neodymium magnets will hold it in place, while you place the garage jack under.
Simple, easy, convinient. 
Once you get familiar with it, and where the jackpoints are, you don't really need to look under the vehicle. Just move it around till it snaps into the spot.
Now the garage jack can be placed roughly beneath, and will still lift the car exactly as supposed, not touching anything else.
Tesla-Proof:
The massive natural rubber will most likely last longer than the Tesla, the magnets/mount, however, could be destroyed. So it needed a clever, collapsible  design: